Welcome to the 2017 Tour of Solar and Green Homes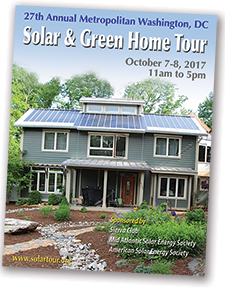 Welcome to the 2017 Tour of Solar Homes and Green Homes, our 27th year showcasing the most green solar homes in the DC area! The tour will be October 7-8, from 11am to 5pm both days. These solar homes exemplify a remarkable variety of solar design, technology and sustainable living concepts.
Each touring day has a variety of unique educational opportunities to put a true environmental "spin" on your experience.
The 2017 Tour Guide will be available in early September at area locations and as a downloadable version from this website. The guide is both your map and "passport" to the homes on the tour. It will feature descriptions and directions to the homes as well as helpful information, articles on solar home installation, grants and incentives as well as ads from the best area installers in the Washington DC area. We'll have more information as it becomes available.

Also check out our Facebook page at www.facebook.com/DCSolarTour

Help us advertise the Tour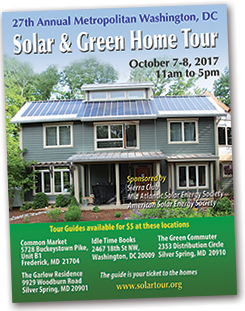 We need your help to get the word out. Download the tour flyer and send it to your friends and family. Lets make this the biggest turnout ever!